Our line of Northlift® line haulers will save your back as well as making your fishing trip a pleasure!
Northlift® line haulers are electric which gives simplified maintenance compared to hydraulic haulers as well as low weight so they can be removed from the boat after fishing. They are made from anodised aluminimum, stainless steel as well as marine grade nylon and are driven by 12V current. If you only haul a few pots at a time the 90kg version, LH200, will do but if you are a more frequent fisherman you should go with the 140kg version, LH300. If you rather haul manually and just want a better working position as well as clearing the side of the hull, the manual version, LHM, is the one for you! Observe that none of the haulers are intended for commercial fishing use.
1 Products
Unitprice with VAT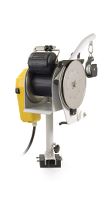 North Lift. Garn/Lindr. 12V. Dragkr. 90kg.
Product Number

NL-NLH200
Out of stock
11 990,00
Unitprice with VAT